Disclaimer: This post is outdated. Now the process of creating a 3D printer in Boostfab is simpler. Follow the step-by-step process here.
In this article, we will explain how to configure a 3D printer in Boostfab so that Boostfab can generate accurate and automated quotations in your 3D printer business.
First, sign in to Boostfab. If you don't have an account, sign up here. Once you have signed in, go to the Machines page. Before creating the machine itself, we need to add the filaments available in our inventory (PLA, ABS, etc.) for the machine.
1. Set up your available filaments
To add filaments, navigate to the Materials tab and click on "Add material"
Select "Filament for 3D printer".
Provide a descriptive name for the filament, like the type and color.
You also need to specify the Price per kg , which is the amount you will charge your customers based on the amount of filament used in their projects.
The last field to fill is the density of the filament. This value helps Boostfab calculate the weight of your customer's project, which is crucial for determining shipping costs. The density of PLA is 1.25 g/cm3, and the density of ABS is about 1 g/cm3.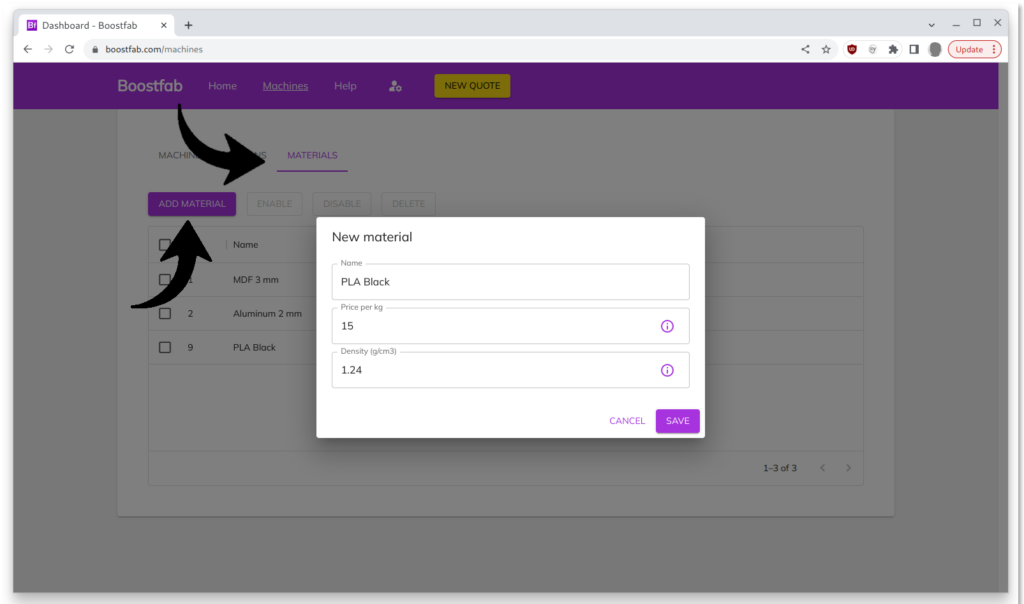 2. Create your machine
Now that we have our materials and actions, let's go back to the Machine tab and click on "Add machine" and select "3D printer".
Next, fill out the form:
Provide a descriptive name for your machine.
The working area is the maximum dimension of the 3D model that your machine can print. If your customer uploads a project that exceeds these dimensions, they will receive an error message stating (please, complete with the right words).
Specify the base price. The base price is the amount of money that will be charged to the customer regardless of the nature of the job. For example, for the startup of the machine.
Then, specify other attributes of your machine like the nozzle diameter, layer height, extrussion width or supported fill densities.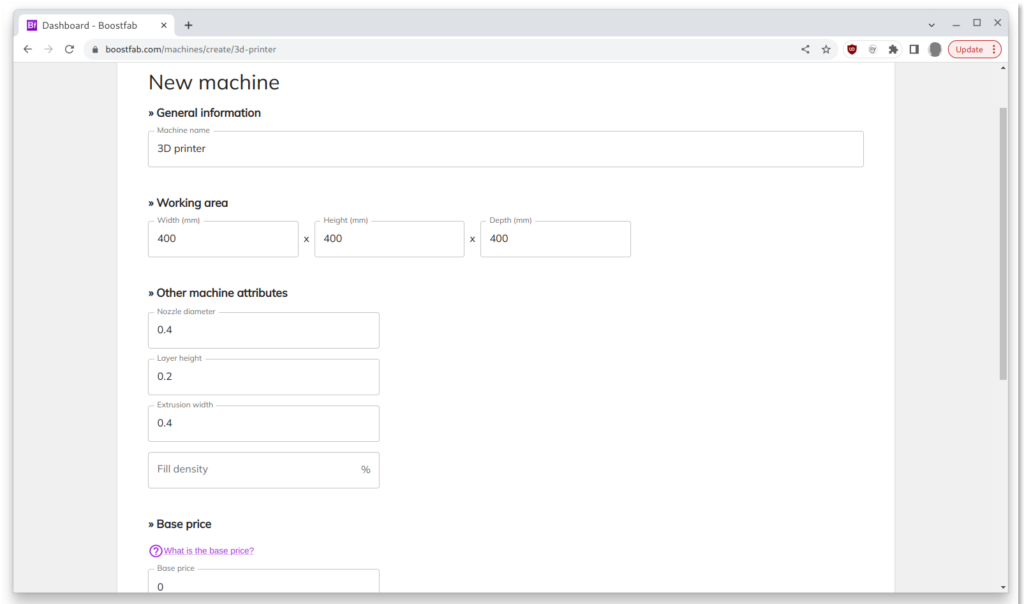 Now, things get interesting. In the following table, you will be able to specify the printing price.
The printing price is the amount of money that is charged to the customer for the time it takes to print the model. You can specify the priting price for each material.
In the example below, for instance, we state that printing 1 gram of Black PLA will cost 0.03 cents.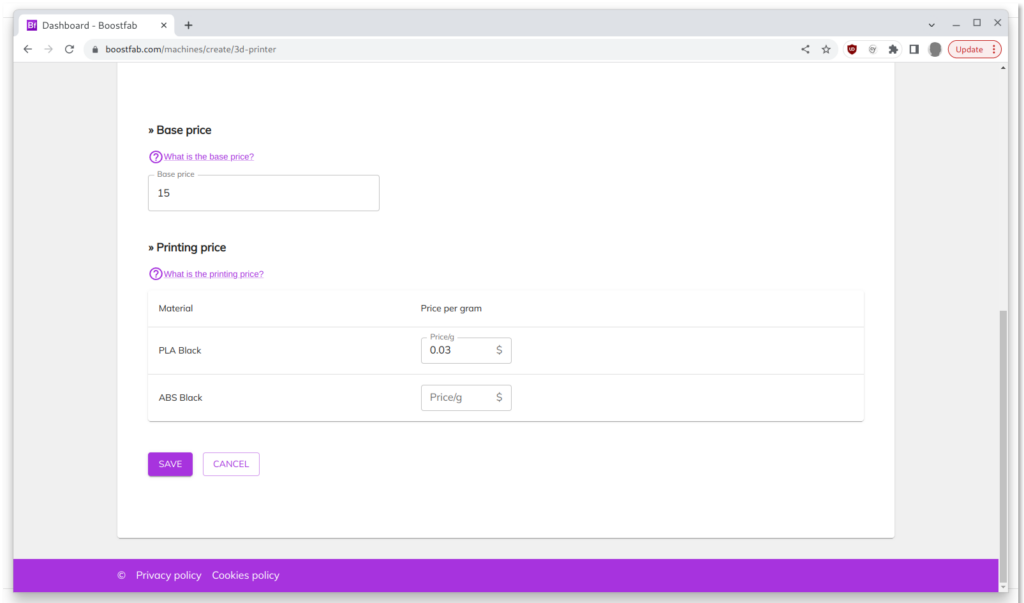 If you leave a field empty, then the machine will not be able to print with that filament. In our case, the machine is not able to print Blue ABS.
That's it! Now you can start creating quotations. I recommend that you read this article to learn how to create your first quotation and how to integrate a quotation page into your website. If you need any assistance, contact us.