In today's fast-paced world of digital fabrication, where precision and efficiency are paramount, the ability to streamline operations can mean the difference between merely surviving and truly thriving in the industry. Picture a world where your digital fabrication company could seamlessly manage and automate the often intricate and time-consuming process of generating quotations for client projects. Imagine a tool that not only simplifies this pivotal task but also elevates the customer experience to a whole new level.
Boostfab is a powerful application designed specifically for digital fabrication companies. Its primary purpose is to streamline the quotation process, making it easier and more efficient. Companies can upload their customers' projects into the system, allowing Boostfab to calculate accurate quotes based on various factors such as material costs, machine time, and labor. Once generated, these quotes can be swiftly sent to customers for approval or rejection.
Furthermore, Boostfab offers a feature that enables customers to directly upload their projects for instant quotations and payment. This feature not only simplifies the quoting process for companies but also provides customers with a seamless experience, ultimately increasing automation in the digital fabrication business.
In this article, we'll explore how Boostfab can be integrated into your digital fabrication company's website. By doing so, you can enhance your operational efficiency, automate the quoting process, and ultimately focus more on the core fabrication tasks. Join us as we delve into the practical aspects of integrating a quoting tool like Boostfab into your digital fabrication workflow, offering both you and your customers a more streamlined and efficient experience.
1. Sign Up at Boostfab.com
The journey begins by signing up on Boostfab.com. The process is quick and hassle-free. After completing the sign-up form, keep an eye on your inbox for a confirmation email. Click the link provided in the email to verify your account, and you'll gain access to Boostfab.
2. Configure Your Available Materials and Machines
Before you embark on creating your first quotation, it's essential to configure your machines and materials. The configuration process varies slightly depending on whether you're setting up a 3D printer or a cutting/engraving machine. To learn more about configuring each type, check out the dedicated articles:
3. Create Your First Quotation
Once your machine is configured, it's time to dive into the quoting process. Here's how it works:
Click the "New Quote" button and select the type of machine you'll be using—whether it's a 3D printer or a laser cutter.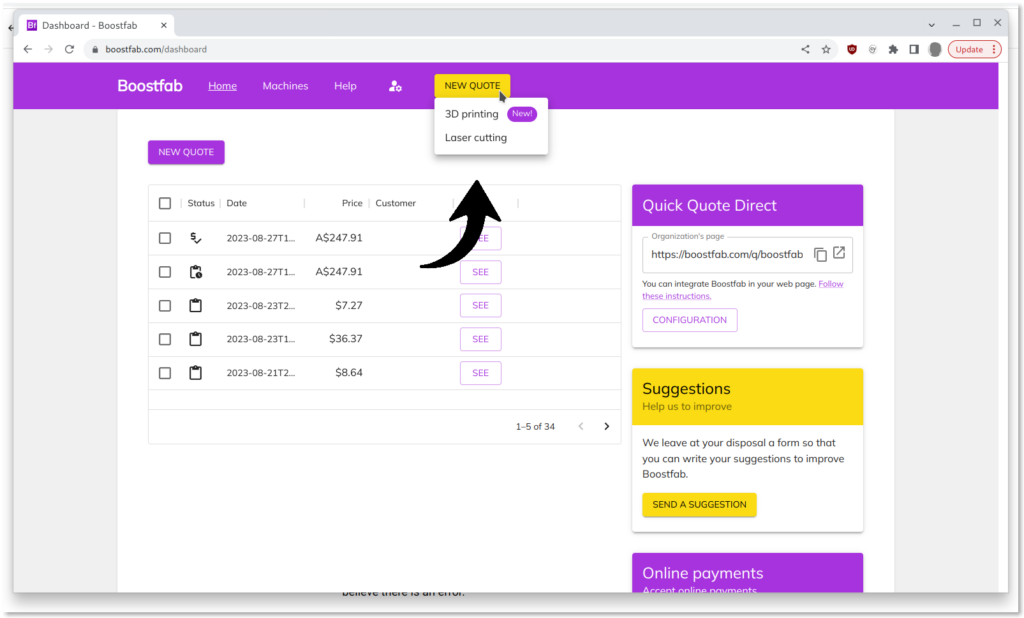 Now, it's time to upload your project files. Depending on the type of job, you'll need to upload the corresponding file format. For instance, use STL files for 3D printing jobs or DXF files for laser cutting and engraving tasks. Boostfab's system processes your uploaded files in a few seconds.
Following file processing, you'll be prompted to configure your project:
For 3D Printing Jobs: Choose the filament type that best suits the project's needs.
For Laser Cutting/Engraving Jobs: Specify the machine's operations, such as cutting or engraving. If your project comprises multiple layers, you'll have the flexibility to designate different operations for each layer. For example, you might choose to engrave one layer while cutting another, all within a single project.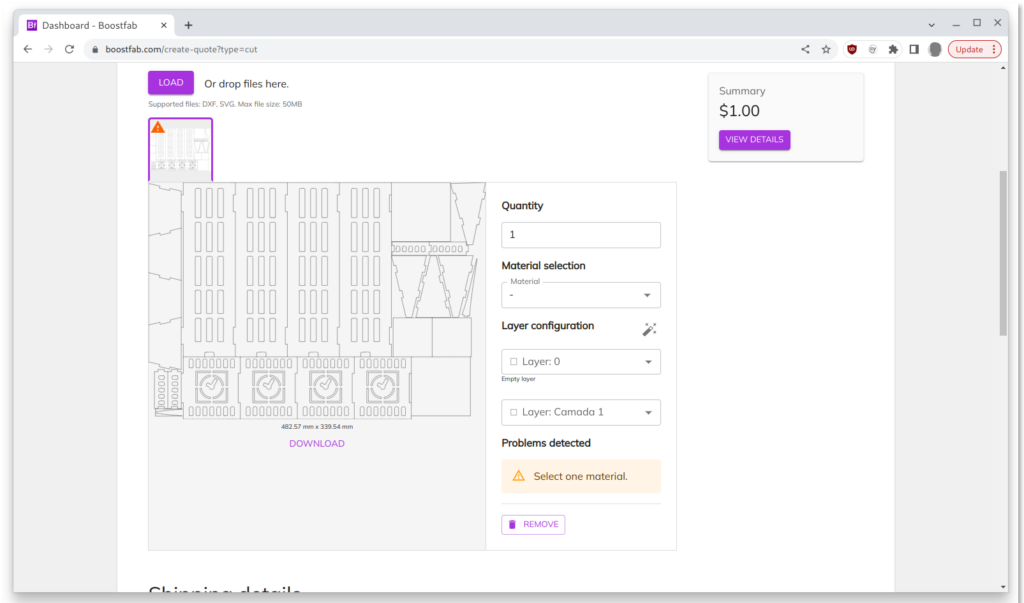 The next step consists of configuring the delivery option. You have the choice between two options: "Pick Up at the Store" or "Delivery." You can configure the shipping prices conveniently from the Shipping configuration page.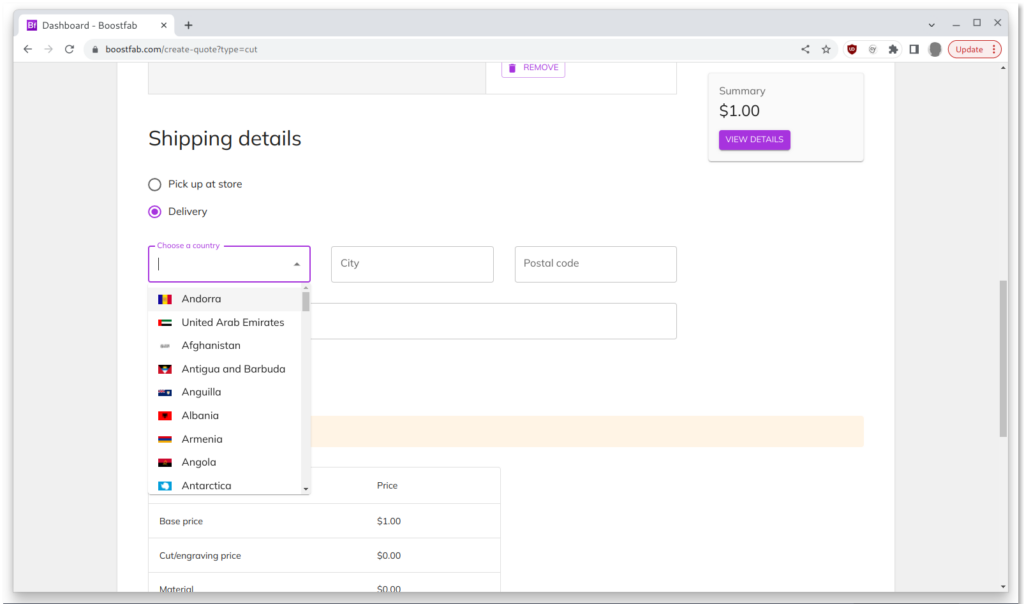 In the following section, you can review the price calculated by Boostfab and make adjustments if you believe there is an error.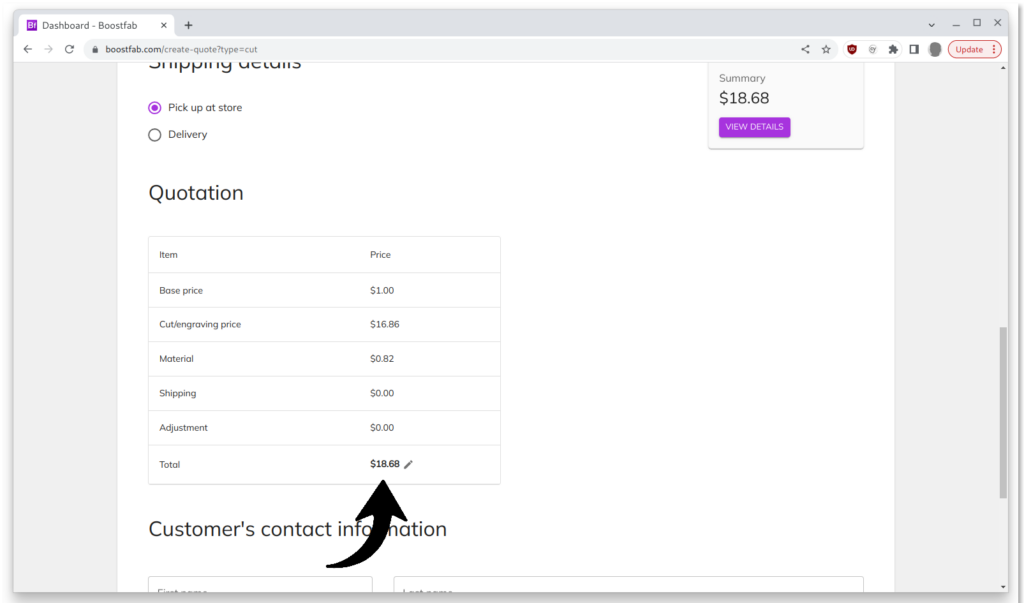 Additionally, you have the option to optionally fill in the customer's information who requested this quote.
Lastly, you'll find two buttons at your disposal: "Save" and "Save and send to the customer." The first button saves a draft of the quotation for your records. The second button sends the quotation directly to your customer's email, enabling them to either approve or approve and pay. For more detailed information on configuring payments in Boostfab, please refer to Enabling Online Payments in Boostfab.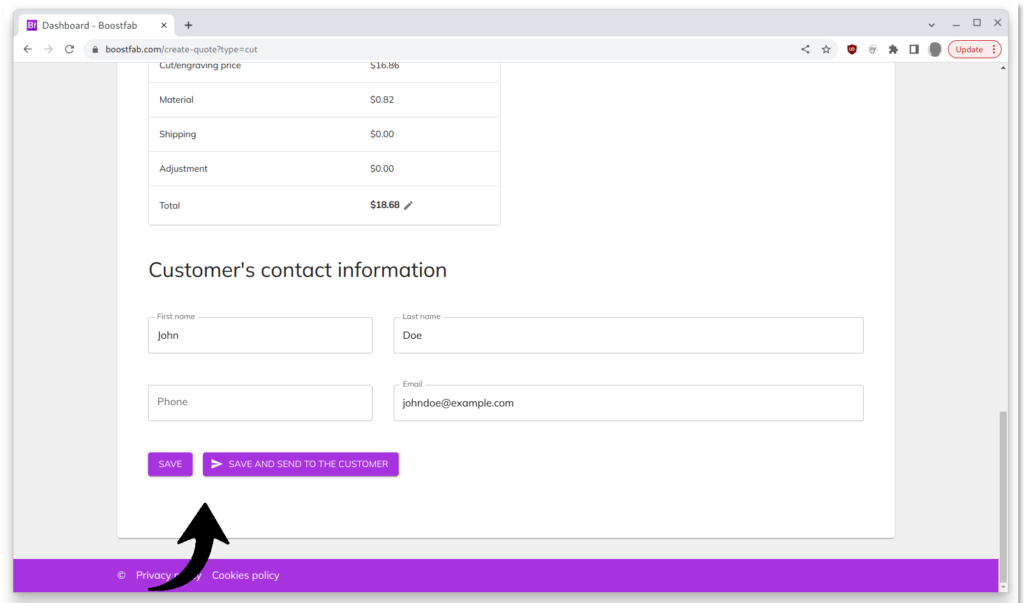 4. Enable Quick Quote Direct for a partial Self-Service Experience
Boostfab offers Quick Quote Direct, a feature that allows your customers to request quotations directly. Here's how it works:
Customer-Friendly Quotation Requests: Your customers can upload files, configure them, and provide their information through Boostfab.
Effortless Management: You can view these requests on your Dashboard and respond promptly.
You can enable Quick Quote Direct on the Configuration page.
When you enable Quick Quote Direct, Boostfab will provide you with a link to a dedicated Quotation Page. This Quotation Page is public and can be shared with your customers, allowing them to request quotations. To integrate Boostfab into your website, the simplest method is to create a hyperlink that directs visitors to your Quotation Page.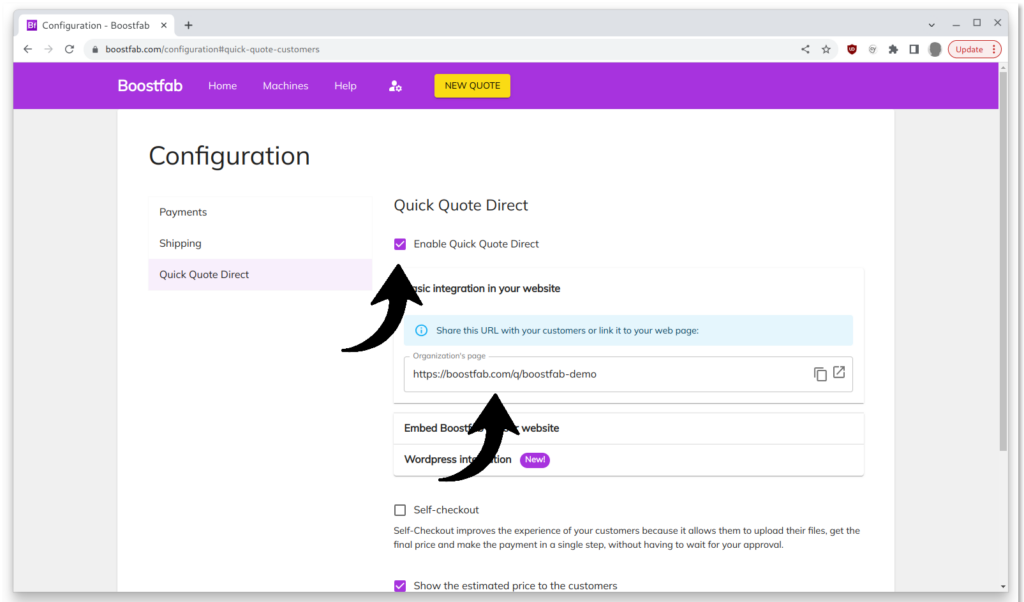 In the next section, we'll delve into a more advanced integration method: embedding the Quotation Page directly into your website.
5. Embedding the Quotation Page in your WordPress site
Note: If you don't have a WordPress site, please refer to "Embedding the Quotation Page in Non-WordPress Sites."
Embedding the Quotation Page into your WordPress site is a breeze, thanks to our official WordPress plugin. Follow these simple steps:
Prerequisites: Ensure that you have enabled Quick Quote Direct, as explained previously.
Plugin Installation: After installing the plugin, you'll notice a new menu item in the main menu of your WordPress administration page. Click on it to proceed.
Sign-In: In this menu, you'll be prompted to sign in using your Boostfab credentials. This ensures a secure connection between your Boostfab account and your WordPress site.

Create a Quotation Page: Once signed in, you'll see a button that says "Create a Quotation Page" Click it, and you'll be automatically redirected to a quotation page hosted right on your own WordPress site!

Feel free to add this newly created page to your main menu to make it easily accessible for your customers. Now, they can seamlessly request quotations directly from your WordPress site.
If you require assistance, don't hesitate to contact us for help.
6. Embedding the Quotation Page in Non-Wordpress sites
Note: If you have a WordPress site, please refer to "Embedding the Quotation Page in Non-WordPress Sites."
To embed the quotation page into non-WordPress sites, you'll need some basic knowledge of HTML code editing. If you require assistance, don't hesitate to contact us for help. Here's how to do it:
Visit the Quick Quote Direct configuration page.
Ensure that you have enabled Quick Quote Direct, as explained previously.
Click on "Embed Boostfab in Your Website". You'll be provided with a piece of HTML code.
Copy the HTML code snippet.
Access the HTML code of your webpage using your preferred website editing tool or platform.
Find the section where you want to insert the Quotation Page and paste the HTML code snippet there.
Save your changes.
Once you've completed these steps, the Quotation Page will be integrated into your website. Your customers can now easily request quotations directly from your site!
7. Next: Enable Self-Checkout for a full Self-Service Experience
In the next article, you'll explore how to elevate the user experience with Self-Checkout.
Without Self-Checkout, users upload their files and wait for manual review and quotation. However, with Self-Checkout, your customers can upload their files, receive an instant quotation, and proceed to make payments all in one step—eliminating delays.
Learn more about achieving self-service and fully automated quotations with Boostfab Self-Checkout for 3D printing and laser cutting companies.