In a previous article, I detailed the steps for setting up an account in Boostfab and enabling Quick Quote Direct. This feature allows you to create a public page through which your users can request quotations for their 3D printing or laser cutting projects. Boostfab employs its algorithms to analyze and estimate the project's cost. You can then review and adjust this estimate before sending the final quotation to your customer.
Self-Checkout is a feature that eliminates the need for manual review. When Self-Checkout is enabled, your customer receives the project price immediately upon uploading their files and can proceed to make the payment. The advantages of this feature are crystal clear:
You no longer need to manually review quotations, saving you a substantial amount of time.
Your customers no longer have to wait for your manual review, greatly enhancing their user experience.
In this article, I will guide you through the process of enabling Self-Checkout, further streamlining your digital fabrication operations.
Set Up a Payment Gateway
Before enabling Self-Checkout, ensure that you have a payment gateway enabled at Boostfab. To do this, visit the Payments configuration page and follow the instructions outlined in this article to configure a payment gateway in Boostfab.
Enable Self-Checkout
Once you have at least one payment gateway configured, navigate to the Quick Quote Direct page and enable Self-Checkout.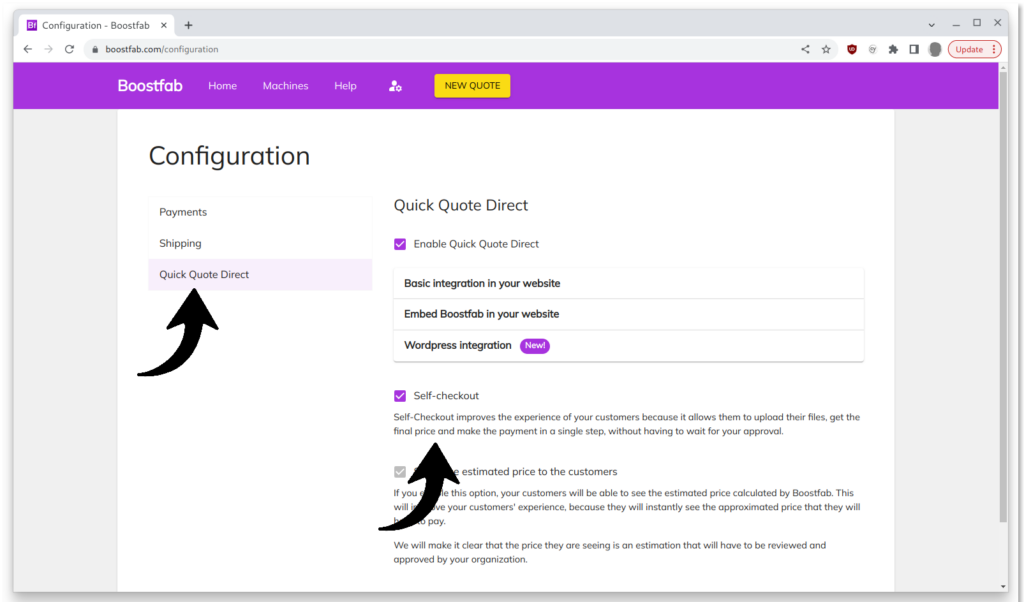 Now, when you access your public quotation page, where your customers typically request quotes, you'll notice that they receive the price immediately and can proceed with the payment.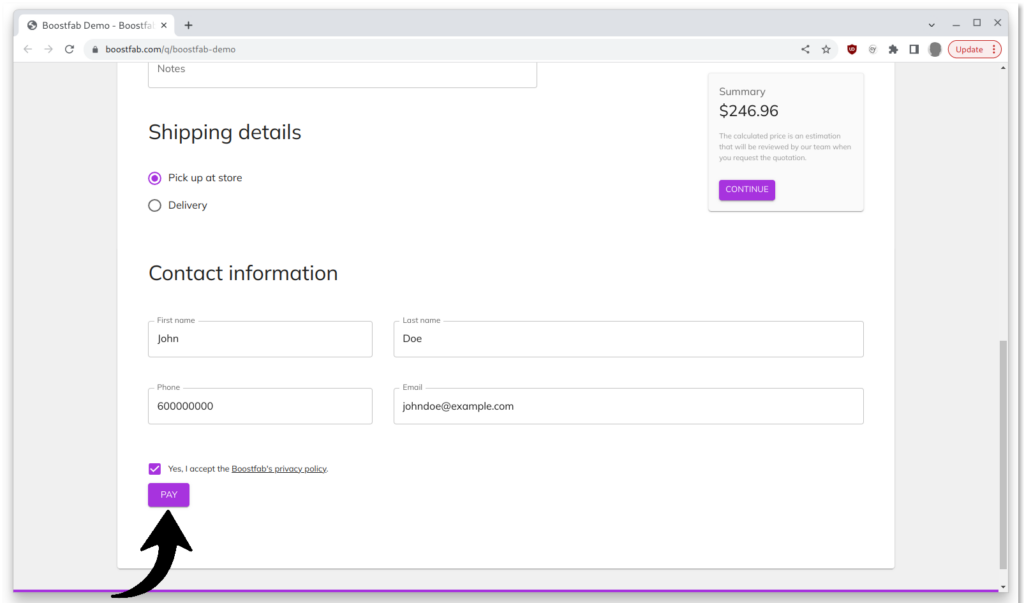 If you're uncertain about how to locate your public quotation page or how to embed it on your website, step-by-step instructions can be found in this article. Should you require any assistance, please don't hesitate to contact us.