Boostfab is a versatile tool designed for digital fabrication companies, specializing in 3D printing and laser cutting. It empowers these businesses by automating the quotation process for their customer projects.
By default, when a company sends a quote to a customer, the customer can either approve the quote or choose to ignore it. However, you might want to provide your customers with the option not only to approve the quote but also to conveniently pay for it online.
In this article, I will guide you through the process of enabling this valuable feature.
1. Set Up a Payment Gateway
Boostfab currently supports two reliable payment gateways:
Stripe (Recommended): Supported in many countries around the world.
Redsys: Exclusively available for organizations based in Spain.
Setting Up Stripe
For enabling online payments through Stripe in Boostfab, navigate to Payments configuration. Go to the Payments methods section and click on Connect with Stripe. You will be redirected to Stripe. Follow their instructions, go back you Boostfab and jump to the next section.
Setting Up Redsys [Spain only]
To use Redsys, you need to contact your bank and request a "Redsys virtual TPV." You will receive an email from them containing instructions. Please forward these instructions to us, and we will assist you.
2. Configure Payment Obligation
Regarding payment obligations, there are two distinct configurations:
Optional Payment:
When you send a quotation to a customer, they have the option to approve the quote without being obligated to make a payment. Payment is optional.
Required Payment:
When you send a quotation to a customer, you require them to make a payment for the quotation to be considered approved. Payment is obligatory.
You can select your desired behavior from the Payments configuration page.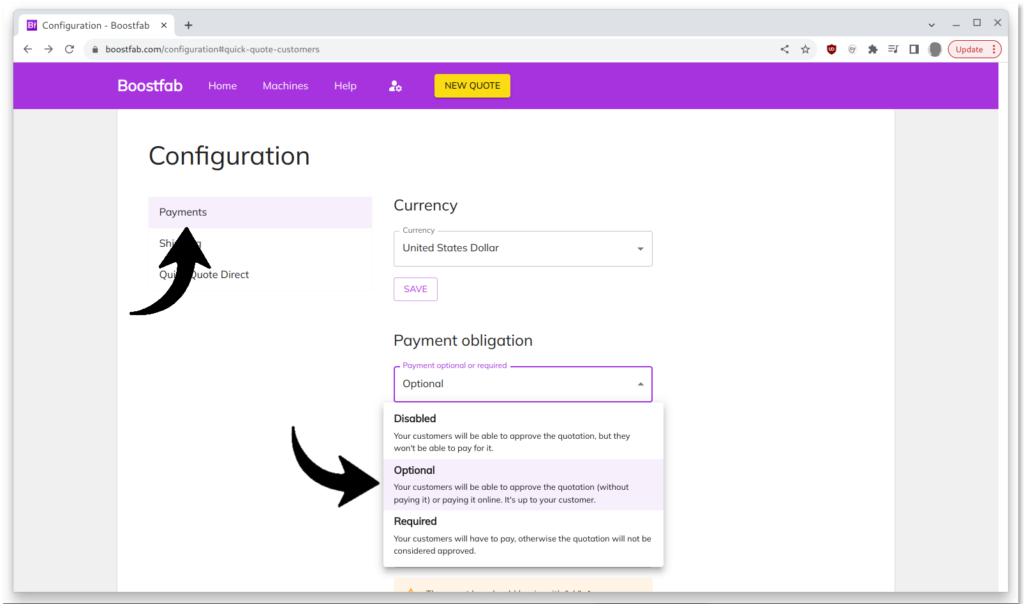 Please note that if you have enabled Self-Checkout for a full self-service experience, your customers will be required to make a payment. You can read more about how Self-Checkout can be useful for your organization here.
3. Try it yourself!
Now that the payment gateway and the payment obligation have been set up, you can create a quotation, send it to your own email, and verify if the payment is functioning as expected. If it doesn't work, please reach out to us, and we will assist you.